We're now offering Youth & Middle Fall Field Hockey! Join our new coach, Mali Ehrsam, on Monday's from September 9, 2019 through October 28, 2019 on the indoor turf at Uihlein Soccer Park. This 8 week program will fill the needs of new players who want to learn the game, and also elite players who want to tone their skills up for the upcoming indoor season. Practices will run from 5:00-7:00 pm on Monday evenings.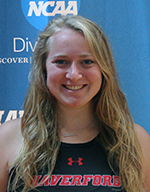 Mali Ehrsam joins the MKEFHC Coaching Staff after graduating from Haverford College in 2018. Mali earned degrees in both Spanish and Environmental Studies while playing 4 years of NCAA Division III Field Hockey at Haverford.
Prior to Haverford, Mali played varsity field hockey at University Lake School in Wisconsin while also competing on MKEFHC's Elite Team.
Mali moved back to Milwaukee after graduating from Haverford and is in her second year of teaching special education at Carmen Northwest High School.
Mali will run Milwaukee's Fall Programming starting September 2019.